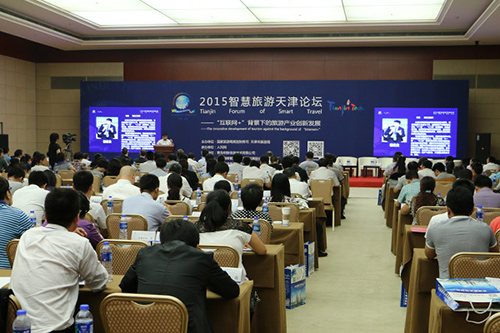 On September 18, the 2015 Smart Tourism Tianjin Forum, one of the key events of the 2015 CTIE, was held in Tianjin Meijiang Convention and Exhibition Center. (Photograph by: Wang Pengcheng)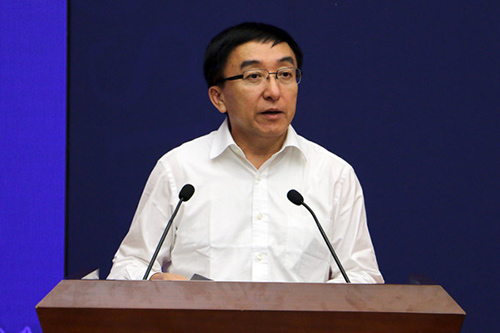 Wu Wenxue, deputy director of China National Tourism Administration gave a speech. (Photograph by: Wang Pengcheng)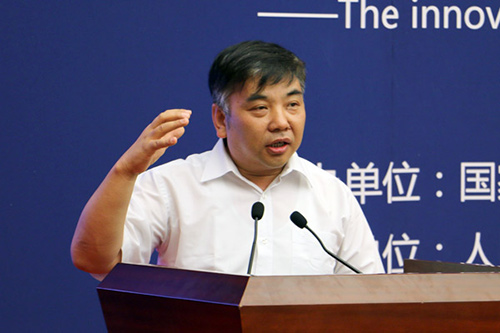 Xin Hongye, deputy director of National Tourism Administration Information Center gave a speech. (Photograph by: Wang Pengcheng)
On September 18, the 2015 Smart Tourism Tianjin Forum, one of the key events of the 2015 CTIE, was held successfully in Tianjin Meijiang Convention and Exhibition Center. The forum was sponsored by Planning and Finance Division of China National Tourism Administration and Tianjin Tourism Bureau, and was undertaken by people.com, with the theme of "Innovative Development of Tourism Industry in the "Internet+" Background". The forum was attended by Wu Wenxue, deputy director of China National Tourism Administration, Xin Hongye, deputy director of National Tourism Administration Information Center, Yang Shihao, director of Tianjin Tourism Bureau and many famous OTA presidents.
In the forum, Wu Wenxue said that the Internet was changing the world deeply in all aspects. "Internet + Tourism" is not simply a matter of "1+1", but is a profound innovative integration, which means establishing a broader industrial platform for creating more value in different ways. "The so-called era of 'Internet+' or 'Tourism+' has become a definite development trend of the tourism industry and Chinese economy, and will become an innovative engine and incubator for satisfying people's need and driving industrial upgrading," he said.
Xin Hongye emphasized in his speech that the traveling demands, channels and services were all changing, and the traditional service modes cannot satisfy the development of the tourist industry. New fulcrums must be developed and breakthroughs must be made for the innovation and development of the tourist industry.
In the forum, Liu Feng, travel expert, Wu Jian, founder and co-president of LY.com, Ding Chongyang, president assistant of CYTS, Chen Zhenyu, executive vice president of Qunar.Com, and Qi Chunguang, executive vice president of Tuniu.com gave speeches one by one regarding the situation of their respective fields and on how to promote the development of tourist industry and expand the tourist market in Tianjin.
The forum also has a special part called "dialogue between principals and online travel agents". On-site discussion was carried out by He Zhineng, deputy director of Tianjin Tourism Bureau, Ye Jianguo, deputy director of Zhejiang Province Tourism Bureau, Chen Jiang, CEO of Ctrip Destination Division, Chen Zuozhi, CEO of Yikuaiqu.com., Ren Guocai, president assistant of Joyu Group, Duan Dongdong, deputy general manager of alitrip.com, Li Mingru, CEO of Kulv Travel, Wei Changren, general manager of ctcnn.com, etc. They also discussed in depth on such topics as new media marketing of different tourist destinations, close integration of the Internet and tourism, etc.
In addition, the awarding ceremony of Tianjin Tourism New Media Marketing Consultant Certificate was held during the forum. Tianjin Tourism Bureau awarded the Certificates to 13 OTAs including aoyou.com, Qunar.Com, LY.com, alitrip.com, Ctrip, Tuniu.com, meituan.com, lvmama.com, tujia.com, Qingdao Xiangzhi, Yikuaiqu.com, Kulv Travel and 80tian.com.
Travel expert Liu Feng said that in the background of Internet+ and new media booming, smart marketing of travel destinations has become a new subject. In this regard, the travel authorities had gradually got used to the new trend and found ways to drive the development of tourism in their jurisdictions by all kinds of resources. Several regions had already formed their distinctive approaches for the development of smart tourism, and this expo had not only driven the development of the Chinese travel industry, but also greatly expedites the development of "Internet+" mode of Tianjin tourist industry through cooperation with domestic and overseas exhibitors, especially new media and Internet companies. In addition, the successful holding of this expo and the smart tourism forum has won good appraisal for Tianjin with its name card "the Style and Taste of Tianjin" both in the tourist industry and on the Internet.
The forum also included such events as the launch of Tianjin new travel media marketing service products, launch of Davost Tourism Marketing Fair in the Times of "Internet+", and presentation and promotion by Radi Group. The forum was attended by exhibitors from different places, experts and scholars from tourism bureaus of different provinces and cities, tourism bureaus of Tianjin districts / counties and major scenic spots, major OTAs in China and Nankai University, entities related to smart tourism as well as Chinese and foreign mainstream media, totally over 300 persons.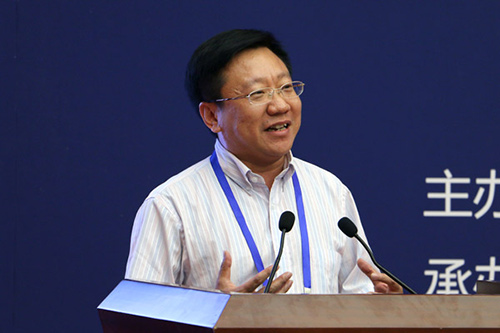 Travel expert Liu Feng gave a themed speech. (Photograph by: Wang Pengcheng)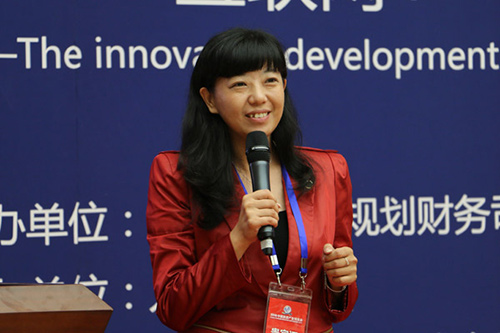 Wu Jian, founder and co-president of LY.com gave a themed speech. (Photograph by: Wang Pengcheng)
Ding Chongyang, president assistant of CYTS gave a themed speech. (Photograph by: Wang Pengcheng)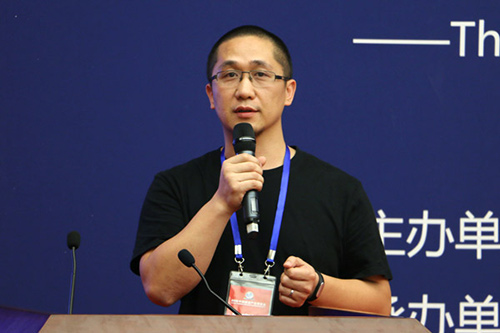 Chen Zhenyu, executive vice president of Qunar.Com gave a themed speech. (Photograph by: Wang Pengcheng)
Qi Chunguang, executive vice president of Tuniu.com gave a themed speech. (Photograph by: Wang Pengcheng)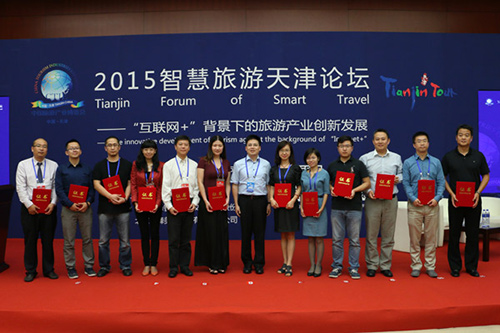 Tianjin Tourism Bureau awarded Tianjin Tourism New Media Marketing Consultant Certificates to 13 OTAs including aoyou.com, Qunar.Com, LY.com, alitrip.com, Ctrip, Tuniu.com, meituan.com, lvmama.com, tujia.com, Qingdao Xiangzhi, Yikuaiqu.com, Kulv Travel and 80tian.com. (Photograph by: Wang Pengcheng)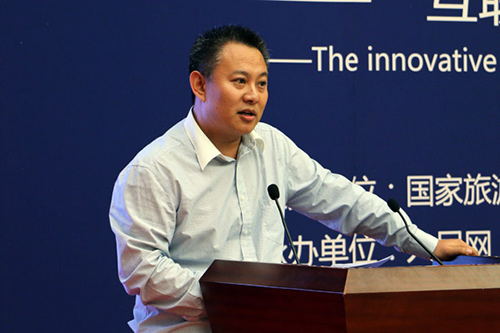 Wang Junyong, general manager of Qingdao Xiangzhi Information Technology LLC gave a speech. (Photograph by: Wang Pengcheng)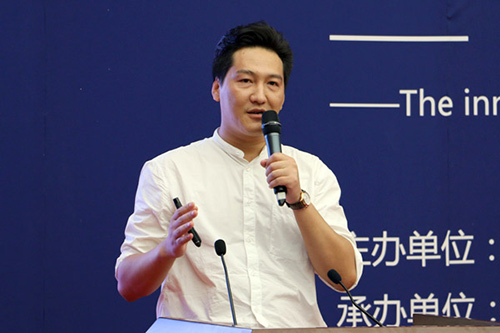 Beijing Davost View Technology LLC launched the Davost Tourism Marketing Fair in the Times of "Internet+". (Photograph by: Wang Pengcheng)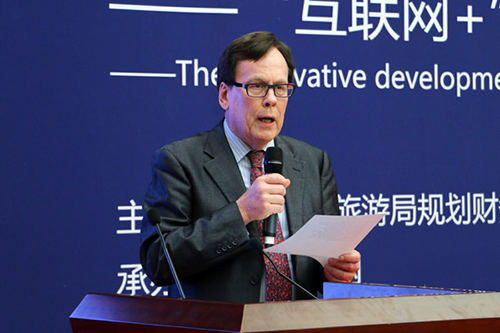 Crockett, global executive chairman of Radi International Group and chairman of Australian Hotels Association gave a speech. (Photograph by: Wang Pengcheng)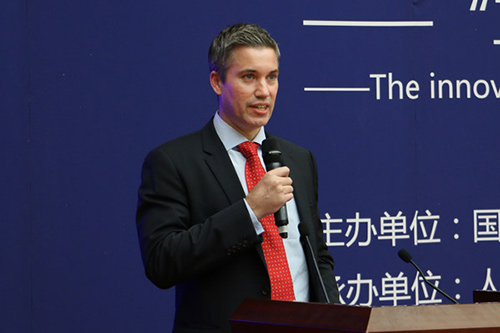 Greg Gellhaus, CEO of the Asia-Pacific region of Switzerland Global Blue gave a speech. (Photograph by: Wang Pengcheng)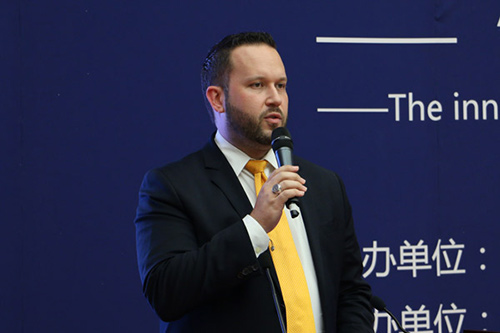 Jon Monet Strom, director of Tourist Education and Global Market Department of Laureate International Education Group gave a speech. (Photograph by: Wang Pengcheng)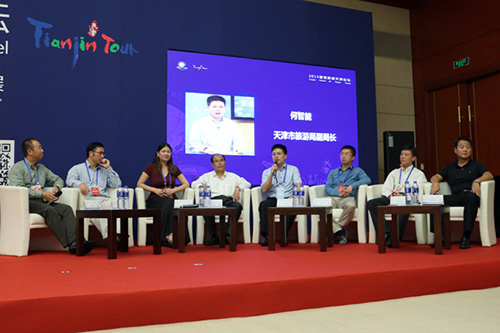 On-site discussion was carried out by He Zhineng, deputy director of Tianjin Tourism Bureau, Ye Jianguo, deputy director of Zhejiang Province Tourism Bureau, Chen Jiang, CEO of Ctrip Destination Division, Chen Zuozhi, CEO of Yikuaiqu.com, etc.. (Photograph by: Wang Pengcheng)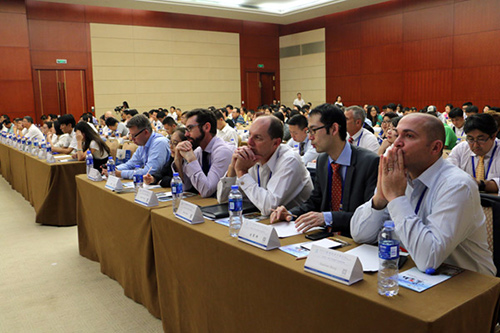 The forum was attended by exhibitors from different places, experts and scholars from tourism bureaus of different provinces and cities, tourism bureaus of Tianjin districts / counties and major scenic spots, major OTAs in China and Nankai University, as well as entities related to smart tourism. (Photograph by: Wang Pengcheng)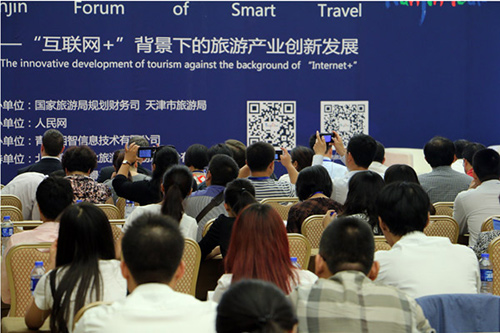 The forum was attended by exhibitors from different places, experts and scholars from tourism bureaus of different provinces and cities, tourism bureaus of Tianjin districts / counties and major scenic spots, major OTAs in China and Nankai University, as well as entities related to smart tourism. (Photograph by: Wang Pengcheng)
Information